After what may have seemed like an endless wait for Sky customers in the UK and elsewhere across Europe, the Sky Go app is now available to download on Apple TV.

The availability of the Sky Go app means that subscribers will be able to stream live Sky's broadcast content on their Apple TV HD and ‌Apple TV‌ 4K devices, rather than having to rely on Sky's set-top box or the equivalent app on their iPhone or iPad .
Over 100 channels can be streamed through the Go app, as well as on-demand access to box sets of popular TV series, all through the familiar blue Sky programming interface. However, it doesn't include the full gamut of Sky channels, and there are some other restrictions to be aware of.
The Go app is only available for Sky Q Multiscreen and Sky Glass Whole Home customers, and allows them to access content included in a Sky Cinema or Sky Sports package, but the app can't be used on ‌Apple TV‌ to stream content if the Sky Go account subscription was an add-on purchase for a mobile device.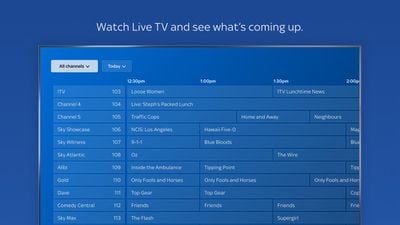 The availability of Sky Go on ‌Apple TV‌ will be a welcome addition for many customers, given that the app has been on ‌iPhone‌ and ‌iPad‌ for years. Last December, Apple's own TV+ app rolled out to Sky Glass TV and Sky Q set-top boxes, allowing subscribers to access Apple TV+ movies and shows on Sky's platform.
Related Stories
Comcast Xfinity Stream App With Live Channels and On-Demand Shows Now Available on Apple TV
Comcast today released its long-awaited Xfinity Stream app on the Apple TV, allowing Apple TV HD and Apple TV 4K owners who subscribe to Xfinity TV to access live TV shows and on-demand content on their set-top boxes. According to Comcast, the app supports more than 250 live TV channels and DVR recordings that can be accessed from any device. There are also thousands of movies and shows that …
Apple Planning to Launch Low-Cost Apple TV This Year
Apple could be planning to launch a new, lower-cost Apple TV later this year, according to a recent rumor. Reputable analyst Ming-Chi Kuo recently said that Apple is planning to launch a new version of the Apple TV as soon as the second half of 2022. The new Apple TV will reportedly have an improved cost structure, suggesting that the device could have a lower cost price to be more competitive…
Apple TV+ App Now Rolling Out to Sky Q and Sky Glass TVs
The Apple TV+ app is now rolling out to Sky Q and Sky Glass TV devices, following a deal between Apple and Comcast earlier this year. Users of the Sky Q set-top box and the new Sky Glass TV will see the Apple TV+ automatically appear on their device, but it is possible to expedite the installation if it has not yet occurred by navigating to Settings, System Management, Resets & Updates, and…
Apple TV App Comes to Philips MediaSuite Hotel Room TVs
Apple's official TV app is now available to hotel guests whose rooms come with a Philips MediaSuite hospitality television set. PPDS, the global provider of Philips TV products for the hospitality market, has partnered with Apple to bring the TV app to Philips MediaSuite installed hotels, where guests can now gain access to their Apple TV+ subscription when away from home. With the Apple …
Apple TV+ Coming to Comcast and Sky Devices [Updated]
Apple TV+ will be coming to Comcast devices, expanding the range of devices that Apple's streaming service is available on and its expanding audience to even more customers, Comcast's CEO announced today during the company's earnings call. The news was broken by Comcast CEO Brian Roberts, who said during the company's quarterly earnings call that Apple and Comcast have agreed on a deal that…
Apple TV+ Website Gains Up Next Queue
Apple has updated its dedicated Apple TV+ website with an Up Next queue for shows, making it easier to keep track of and watch Apple TV+ content on the web. The Up Next queue is a new addition to the Apple TV+ website, introduced earlier this week, according to 9to5Mac. Prior to now, the Apple TV+ website had an option for adding a show to the Up Next queue, but the Up Next queue did not…
Apple Now Offering US Customers $50 Gift Card With Every Apple TV Purchase
After briefly taking down the Apple Store, Apple today began offering US customers a $50 gift card with every Apple TV 4K or Apple TV HD purchase made through its online store. The promotion runs for the next two weeks from July 1 to July 14, and the gift card can only be used for a future Apple purchase. In other words, customers can't use it to knock $50 off the Apple TV they are…
Kuo: New Apple TV to Launch in Second Half of 2022, Lower Price Possible
Apple plans to launch a new version of the Apple TV in the second half of 2022, according to well-known analyst Ming-Chi Kuo. In a tweet today, Kuo said the new Apple TV will have an improved cost structure, suggesting that the device could have a lower price that is more competitive with other streaming media players like Google's Chromecast line, Amazon's Fire TV line, and the Roku line . …
Popular Stories
Titanium Apple Watch 'Pro' Could Signal the End of Apple Watch Edition
The larger Apple Watch Series 8 model expected to arrive later this year is rumored to feature a titanium casing, raising questions about the future of the Apple Watch Edition. Yesterday, Bloomberg's Mark Gurman reported that the new, larger Apple Watch model scheduled to launch this year will feature a casing made of "a more durable formulation of titanium to make it extra rugged." Apple …
Apple Replaces Last Remaining Intel-Made Component in M2 MacBook Air
In the M2 MacBook Air, Apple has replaced an Intel-made component responsible for controlling the USB and Thunderbolt ports with a custom-made controller, meaning the last remnants of Intel are now fully out of the latest Mac. Earlier this month, the repair website iFixit shared a teardown of the new MacBook Air, revealing a look inside the completely redesigned machine. One subtle detail…
iPhone 14 Pro Rumored to Have 6GB of Faster RAM
The iPhone 14 Pro and iPhone 14 Pro Max will both feature 6GB of RAM and a newer and faster type of memory, according to a report today from DigiTimes. iPhone 14 Pro renders created by Ian Zelbo for Jon Prosser The report claims that the high-end models of the upcoming iPhone lineup will feature 6GB of LPDDR5 RAM, a faster and more efficient type of memory compared to older standards. Current …
Gurman: Apple Watch 'Pro' to Offer First True Redesign Since Series 4, but No Flat Sides
The upcoming high-end variant of the Apple Watch Series 8 will feature the device's first redesign in years and a new titanium casing, but will not feature the long-rumored squared-off look, according to Bloomberg's Mark Gurman. In the latest edition of his "Power On" newsletter, Gurman said that this year's high-end Apple Watch model will be "a good bit bigger" than the current Apple Watch…
Five Apple Products Rumored to Switch to USB-C
While the iPhone still uses the Lightning connector for now, Apple has been transitioning many of its devices to USB-C in recent years. Apple now offers USB-C ports on every Mac that it currently sells, ranging from the MacBook Air to the Mac Pro. Other devices with a USB-C port include the 2018 and newer iPad Pro, 2020 and newer iPad Air, sixth-generation iPad mini, Studio Display, and Pro…
Apple Had M1 Mac Pro Ready to Ship Months Ago, Mac Mini Redesign Unlikely
Apple had a Mac Pro featuring the M1 Apple silicon chip ready to ship and launch to customers "months ago," but has ultimately decided to wait for the "M2 Extreme" Mac Pro later this year, Bloomberg's Mark Gurman has revealed. In an interview with YouTuber Max Tech, Gurman said that Apple likely held off on the M1 Mac Pro to wait for the more high-end and powerful version with the "M2…
Apple Chip Expert Leaves Company to Join Samsung
A chip expert who worked for Apple for nine years has left the company to join rival Samsung, Business Korea reports. Kim Woo-Pyeong, according to the report, worked for Apple since 2014 after working for Texas Instruments and Qualcomm in prior years. The report is vague on what Kim's responsibilities were at Apple, only saying he was a semiconductor expert. Apple uses a wide range of…
.