AppleInsider is supported by its audience and may earn commission as an Amazon Associate and affiliate partner on qualifying purchases. These affiliate partnerships do not influence our editorial content.

If your MacBook Pro's drive is running close to capacity, the answer is to add more storage with one of these external SSDs.
Buyers of Macs and MacBooks from Apple often complain about the storage options available for their purchases. Starter MacBook Air and MacBook Pro models offer as little as 256GB of storage, but upgrades to higher capacities can be expensive.
A doubling of storage could cost a few hundred dollars, while jumping from 512GB to the maximum 8TB capacity of a 14-inch MacBook Pro costs consumers a wallet-denting $2,400 more.
Add in that you cannot physically switch the built-in drive of a MacBook Pro for another, and storage becomes an expensive and frustrating problem.
The best compromise is to opt for external drives. Typically offered at a far lower cost than Apple's storage upgrades, external drives also offer other bonuses, such as having multiple drives at your disposal, or the ability to switch drives or physically share them with other users.
This is AppleInsider's Recommendations for SSDs you can buy and use with your Mac, MacBook Air, or MacBook Pro, to give you more space to work. For HDD options, check out our top pick for the best external hard drive for Mac.
Samsung T7 Touch and Shield
These two drives are compact and highly portable storage appliances from Samsung. At the core, they're quite similar, but they differ in a few striking ways.
The Portable T7 Shield and T7 Touch are compact USB 3.2 drives offering read speeds of up to 1,050MB/s and write speeds at up to 1,000MB/s. While it uses USB 3.2 Gen 2 and PCIe NVMe to manage those high speeds, complete with compatibility with Mac, PC, and other devices, that's where the comparison splits.
Samsung T7 Touch & Shield Portable SSDs
As the name suggests, the Shield is housed in a rubber exterior with Dynamic Thermal Guard for heat management. The rugged construction means it can resist drops from a height of 9.8 feet, as well as offering IP65 dust and water resistance.
The Touch is protective of your data, but in a different way. It has a built-in fingerprint reader, which allows you to use AES 256-bit encryption and to quickly unlock it for access, all by touching the drive's sensor.
Available from Samsung directly, the T7 Shield is usually $159.99 for the 1TB capacity, but it's on sale for $99.99. The T7 Touch is also available direct from the manufacturer, with the 500GB model priced at $79.99, down from $94, while a 2TB version usually costs $289.99, but is down to $249.99.
Lacie Rugged SSD
One of the better-known external drives among video producers, LaCie's Rugged SSD lineup is traditionally clad in a bright orange case. As time passed, the lineup went various design improvements, with it now consisting of a palm-sized drive that's still highly protective.
Bearing IP67-rated water resistance and able to survive a three-meter drop very easily. It also offers fast connectivity at up to 950MB/s, with it taking advantage of Seagate FireCuda NVMe technology.
The data is also protected, using onboard Seagate Secure encryption and a connected password system.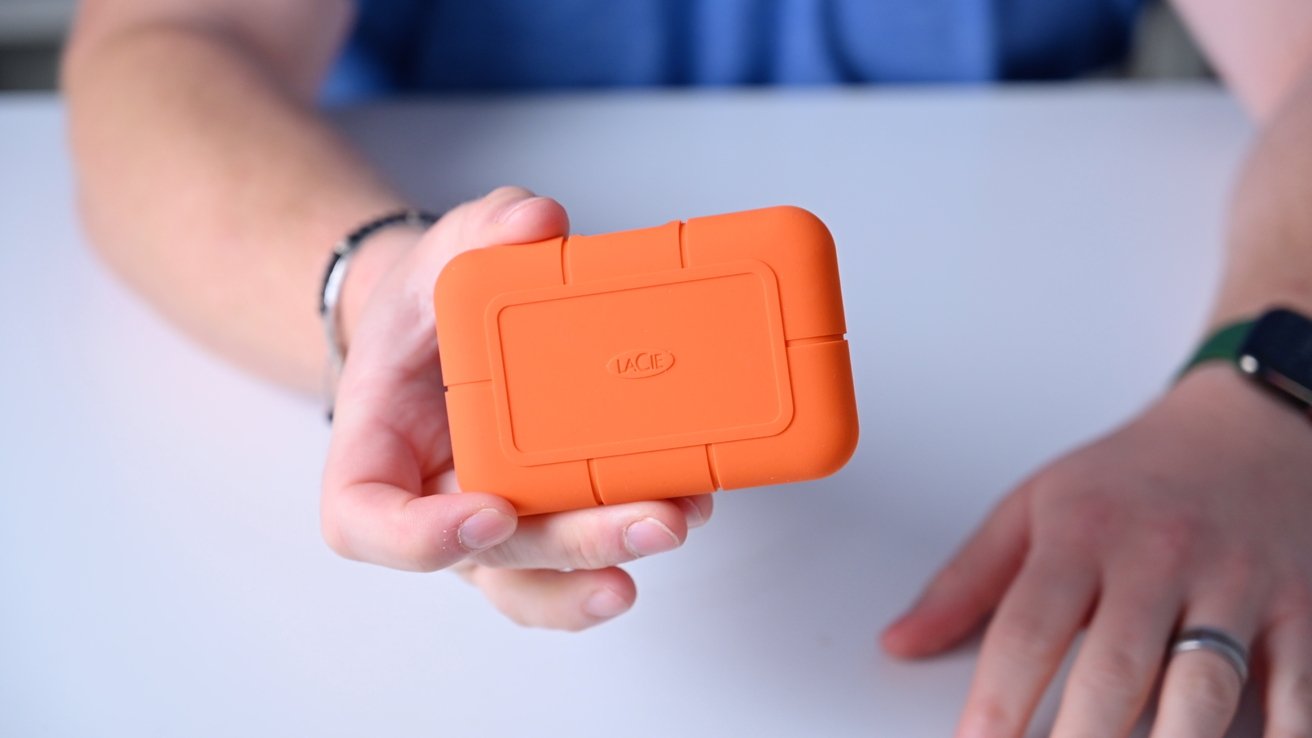 LaCie Rugged SSD
For those needing more speed, the LaCie Rugged SSD Pro offers the same protective benefits, but with higher performance. Able to handle speeds up to 2,800MB/s, it is well suited for 6K and 8K video editors.
Along with equal USB-C and Thunderbolt 3 support, the Rugged SSD Pro does visually differ, in that it has a black casing instead of orange.
The LaCie Rugged SSD 500GB drive is available from Amazon for $139.99. The LaCie Rugged SSD Pro 1TB drive is also available from Amazon, at $337.
Crucial X6
A rounded square in shape, the Crucial X6 range consists of tiny and lightweight drives that can weigh less than your car keys. USB-C in nature, it is compatible with a wide variety of devices, including consoles, and can also work using a USB-A adapter.
Connecting over USB 3.2, the drive can manage read speeds of up to 540MB/s, and potentially up to 800MB/s for sequential read speeds. Though not the blistering speeds of some high-performance drives, the Crucial X6 makes up for the difference by being reasonably priced.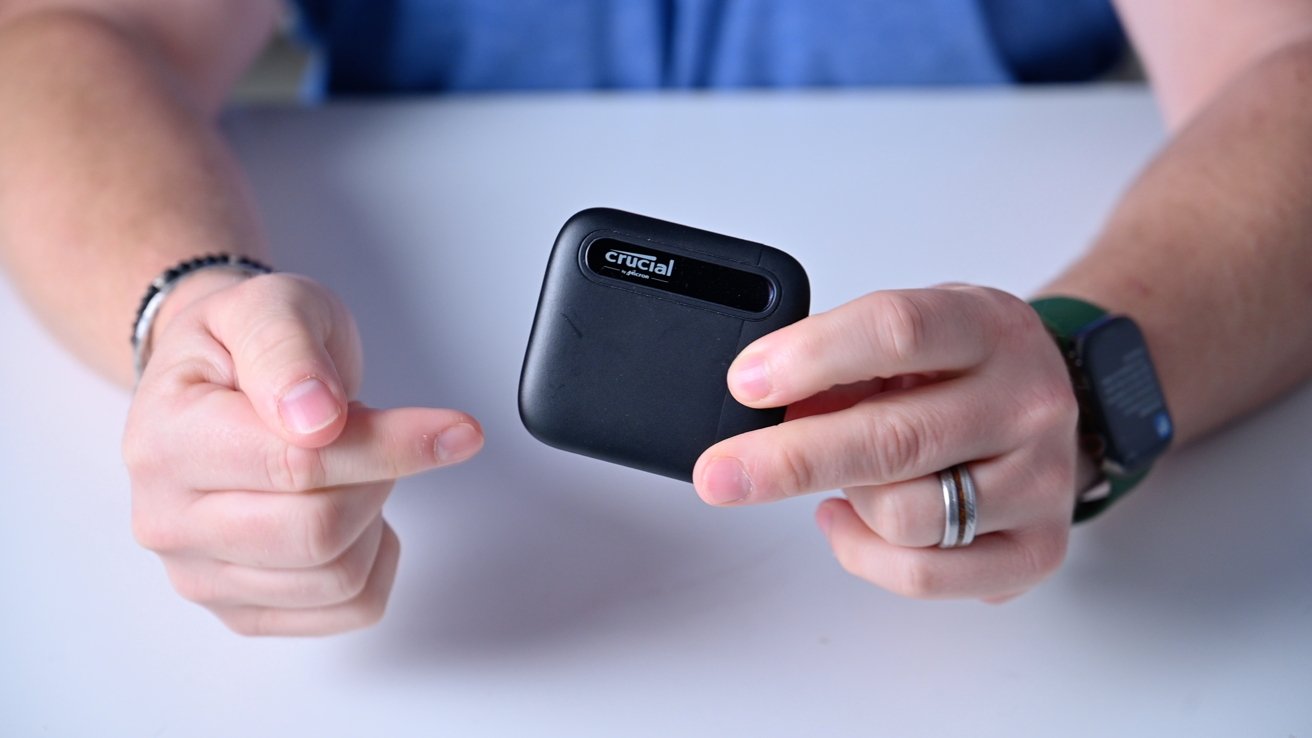 Crucial X6 SSD
While small, it is also protective from occasional knocks and bumps, including drops of up to 6.5 feet onto a carpeted floor.
Available on Amazon, the Crucial X6 range starts from $59.99 for 500GB, rising to $329.99 for 4TB.
Glyph Atom Raid Thunderbolt SSD
A bit of a step-change here, the Glyph Atom Raid Thunderbolt SSD is not just one external drive, it's actually two. As the RAID name suggests, the drive enclosure actually holds two drives of half the quoted capacity, which are used together.
In using RAID-0, striping the data across both drives, the SSD is capable of high transfer speeds, including up to 950MB/S when connected using Thunderbolt 3. It is also compatible with USB-C 3.1 Gen 2, as well as USB 3.0 connections.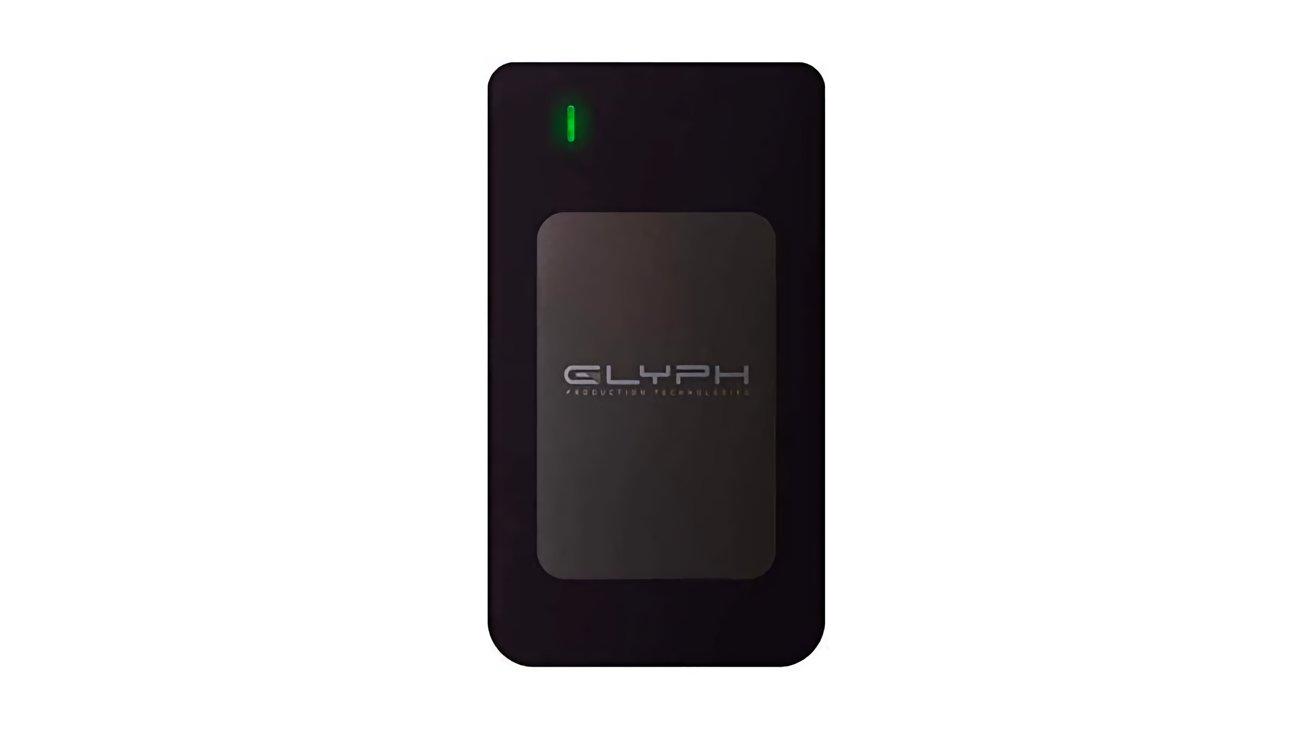 Glyph Atom Raid Thunderbolt SSD
Made from aluminum, the case includes a rugged bumper to protect from bumps and scrapes. Made with Mac professionals in mind, it's also preformatted to HFS+ with Journaling, and is Time Machine compatible out of the box.
The Glyph Atom is available on Amazon, starting at $249.95 for 1TB, rising to $799.95 for 4TB.
CalDigit Tuff Nano and Tuff Nano Plus
The CalDigit Tuff Nano and Nano Plus are boasted by the manufacturer as the "smallest IP67-rated external SSD of its class," offering protection from dust, water, and exteriors via its rubberized.
At 2.99 inches by 2.14 inches by 0.57 inches for the Tuff Nano and 4.01 inches by 2.14 inches by 0.57 inches for the Nano Plus, they're also extremely small and portable drives.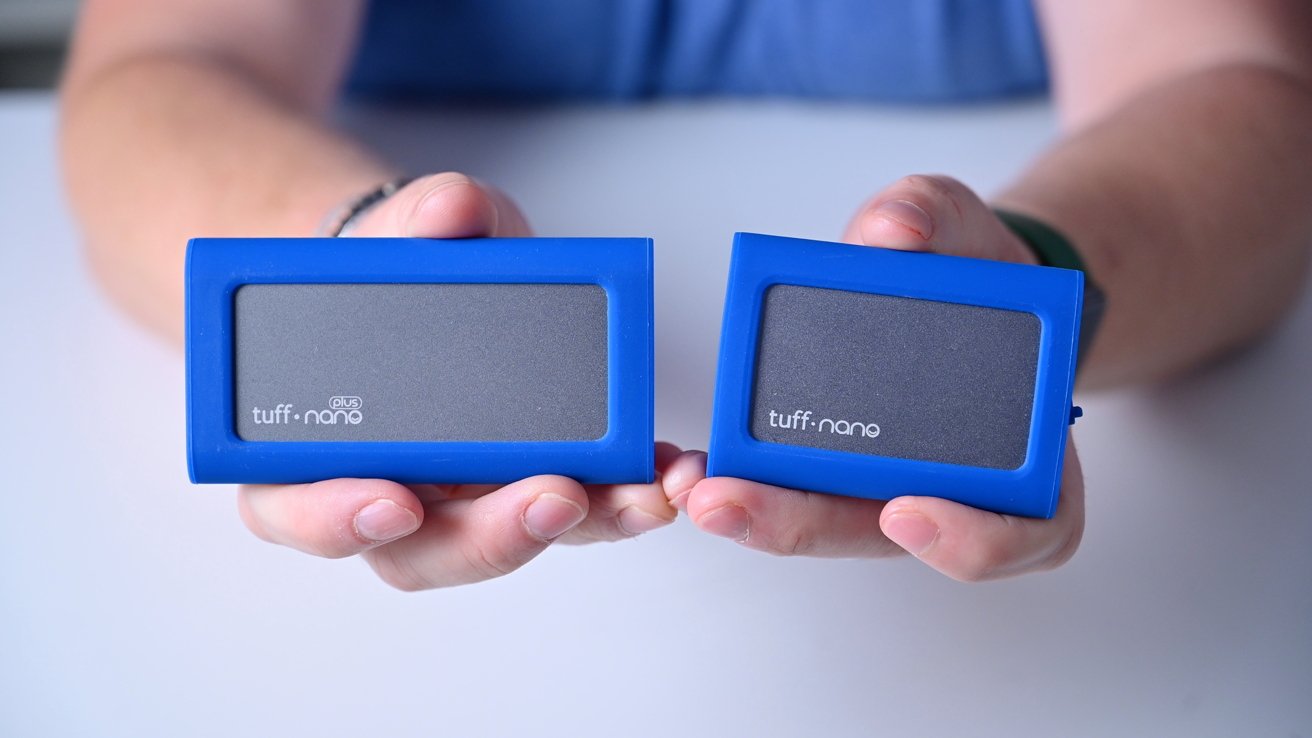 CalDigit Tuff nano Plus & Tuff nano
While small, they're also fast, taking advantage of the 10Gb/s USB-C interface to offer transfer speeds of up to 1,080MB/s for the Nano Plus model's NVMe PCIe SSD, 1,055MB/s for the SSD in the Nano .
Available from Amazon, the CalDigit Tuff Nano starts at $99 for 512GB of storage, with the 2TB Nano Plus at $319.99.
SanDisk Professional G Drive SSD
The ultra-rugged SanDisk Professional G Drive SSD is intended for creatives and those who compute with an active lifestyle. However, SanDisk does so by being both protective and high performance.
For a start, the rugged drive is IP67-rated for water and dust resistance, as well as being able to survive a 3-meter drop, and can resist up to 2,000 pounds of crushing force. There's also a five-year limited warranty as well.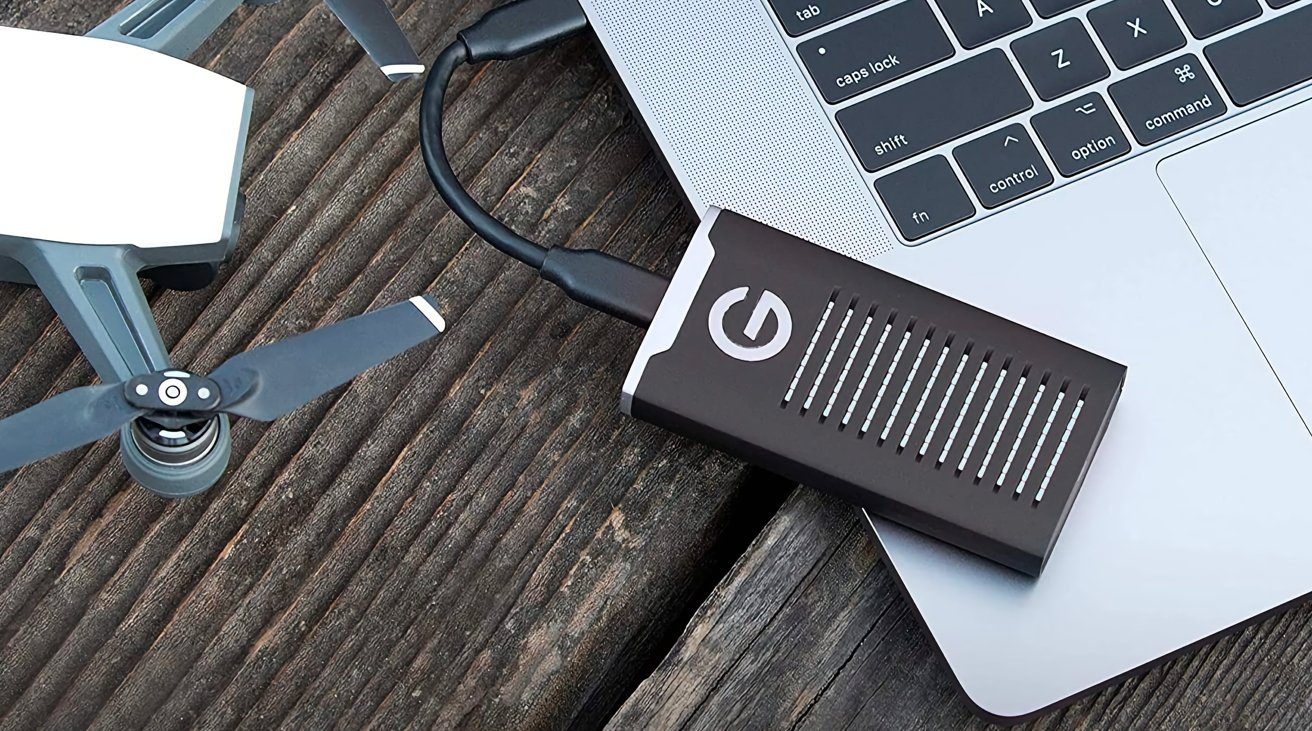 SanDisk Professional G Drive SSD
On to performance, the USB-C-based drive supports 10Gbps USB 3.2 Gen 2 connections, as well as earlier USB versions. Offering transfer speeds of up to 1,050MB/s for reads and 1,000MB/s for writes, the drive uses its aluminum enclosure to reduce heat, allowing it to sustain high speeds for longer.
For Mac users, it's also supplied with HFS+ formatting, so it's ready to go, though a quick format will let it work with Windows too.
Available from Amazon, the SanDisk Professional G Drive SSD starts from $109.99 for 500GBm, rising to $509.99 for 4TB.
SanDisk Extreme Portable SSD
A highly popular drive, the SanDisk Extreme Portable SSD is a sleek NVMe-based storage accessory with a fashionable dark gray and red appearance. Unusually, it includes a loop that you can use with a carabiner, so you could secure it to a belt loop or a strap for easy at-reach transportation and access.
The rubberized casing offers 2-meter drop protection and IP55 water and dust resistance, allowing it to survive the rigors of travel.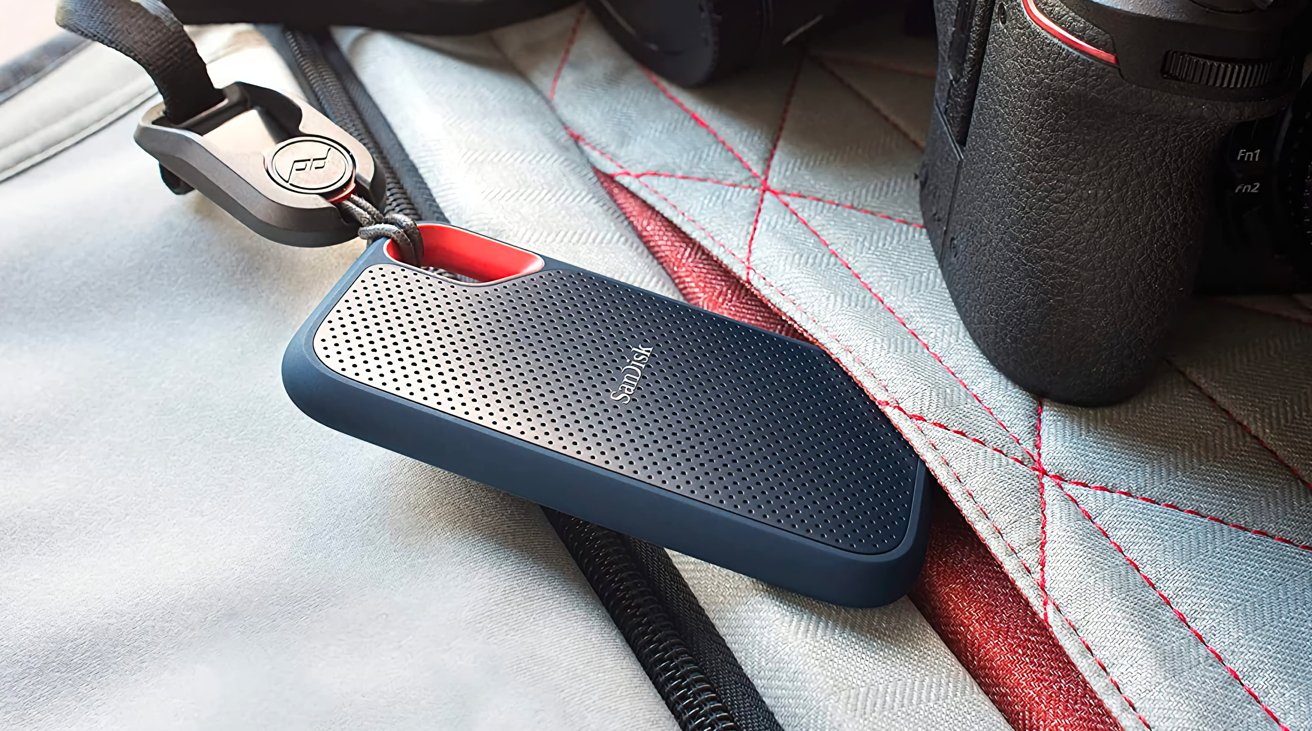 SanDisk Extreme Portable SSD
Connecting over USB-C, and compatible with older connections, the drive offers high speeds including 1,050MB/s reads and up to 1,000MB for writes. There's also 256-bit AES hardware encryption support for stored data.
The SanDisk Extreme Portable SSD is available at Amazon, starting at $104.99 for 500GB, rising to $459.99 for 4TB.
It can also be bought from B&H Photo, starting from $104.99 for 500GB.
.