Starting with iOS 16, iPadOS 16, macOS Ventura, and watchOS 9, Apple Pay will allow users to pay multiple merchants in a single transaction within supported apps. Apple says this feature will let users make a bundled purchase, such as a travel package with flights, a rental car, and a hotel room, all in a single Apple Pay payment sheet.

Apple Pay has also received a redesign on macOS Ventura, with the payment sheet now looking similar to the one on iOS 15 and later.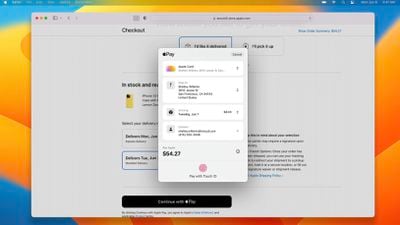 As we previously reported, Apple Pay on iOS 16 is also gaining detailed receipts and order tracking information for Apple Pay transactions in the Wallet app. In addition, a new Apple Pay Later option will let customers split a purchase into four equal payments over six weeks, with no interest or fees to pay, according to Apple.
iOS 16, iPadOS 16, macOS Ventura, and watchOS 9 are currently in beta for developers and will be released to all users in the fall.
Related Stories
Apple Closes Loophole That Allowed Mir Cardholders to Use Apple Pay in Russia
Apple this week suspended its Apple Pay service for the Mir card payment system in Russia, effectively closing a loophole that had allowed Russians to continue to use the Apple Pay service. According to Reuters, Mir had remained connected to Apple Pay even after Apple restricted the use of the payments service in Russia on March 1 for Mastercard and Visa cardholders. Russia's National…
Survey: Only 6% of US iPhone Users Who Set Up Apple Pay Actually Use It
Only six percent of iPhone users in the United States who have Apple Pay set up actually use the feature, according to a detailed study by PYMNTS. Seven years after Apple Pay launched in September 2014, 93.9 percent of consumers with Apple Pay activated on their iPhone do not use it to pay for in-store purchases, meaning that only 6.1 percent do. In 2015, the year following Apple Pay's…
iOS 16 Makes It Easier to Track Packages With Built-In Order Tracking for Apple Pay Purchases
iOS 16 makes it easier for users to track orders and parcels with a built-in tracker within the Wallet app for Apple Pay transactions. Previously, users would need to download a third-party app from the App Store to track their parcels. With iOS 16, Apple is building a tracker directly within the Wallet app for Apple Pay transactions. The new integration with Wallet will let merchants and…
Apple Working on 'Apple Pay Later' Feature With Monthly Installments for Apple Pay Purchases
Apple is developing a new pay later service that will let customers pay for Apple Pay purchases in installments over time, Bloomberg reports. Installment payment options will be available for all Apple Pay purchases, with the feature not limited to Apple products. The service is similar to Paypal's Buy Now, Pay Later feature, and internally, it's being called "Apple Pay Later." Apple is…
Apple Launching Tap to Pay on iPhone This Month
During WWDC yesterday, Apple announced it would be launching Tap to Pay on iPhone this month, allowing small merchants and independent sellers in the United States to use their iPhone as a payment terminal. Announced in February, the feature allows compatible iPhones to accept payments via Apple Pay, contactless credit and debit cards, and other digital wallets, with just an iPhone. Tap to …
Apple Developing In-House Payment Processing Technology for Future Finance Products
Apple is working on a multiyear plan to bring its financial services in-house in the future, cutting down on the need for financial partners like Goldman Sachs, Bloomberg reports. Apple is developing payment processing technology and infrastructure such as lending risk assessment, fraud analysis, credit checks, and dispute handling, plus it is working on tools for calculating interest,…
Coinbase Users Can Now Buy Crypto Assets Using Apple Pay
Popular cryptocurrency exchange Coinbase has announced that it is now allowing traders to use bank cards linked to Apple Pay to purchase crypto assets on the platform. "Today, we're introducing new and seamless ways to enable crypto buys with linked debit cards to Apple Pay and Google Pay, and instant cashouts up to $100,000 per transaction available 24/7," said a Coinbase blog post on…
Popular Stories
WWDC 2022 Apple Event Live Keynote Coverage: iOS 16, macOS 13, MacBook Air, and More
Apple's Worldwide Developers Conference (WWDC) starts today with the traditional keynote kicking things off at 10:00 am Pacific Time. We're expecting to see a number of announcements, including iOS 16, macOS 13, watchOS 9, and tvOS 16, though it's unclear what else we'll be seeing at the event. A redesigned MacBook Air tops the list of potential new hardware, but supply chain issues…
Apple Announces iOS 16: First Look at New Features
Apple today previewed iOS 16, the company's next major update for the iPhone, featuring a redesigned, customizable Lock Screen, improvements to Messages, Maps, and Home, new sharing and personalization capabilities, and more. Lock Screen, Notifications, and Focus An all-new, fully customizable Lock Screen allows users to edit a large number of design elements, including type styles and…
Apple Announces Redesigned MacBook Air With M2 Chip, Notch, MagSafe, New Colors, and More
Apple today at WWDC 2022 announced the next-generation MacBook Air with the all-new M2 chip, a redesigned unibody enclosure, a brighter display with a notch, new color options like Starlight and Midnight, MagSafe charging, a 1080p camera, and more. Subscribe to the MacRumors YouTube channel for more videos. The new MacBook Air looks similar to the latest 14-inch and 16-inch MacBook Pro…
Everything Apple Announced at the WWDC 2022 Keynote in 13 Minutes
Apple on Monday held a keynote event that saw the introduction of iOS 16, iPadOS 16, macOS 13 Ventura, watchOS 9, and the new M2 Apple silicon chip, which is soon-to-be available in the MacBook Air and 13-inch MacBook Pro. Subscribe to the MacRumors YouTube channel for more videos. It was a crazy event where Apple introduced feature after feature for almost two hours straight. For those who…
What's New in tvOS 16 for Apple TV: Features and Enhancements
While the Apple TV was an afterthought during the WWDC 2022 keynote, there is indeed a new tvOS 16 update for all Apple TV HD and Apple TV 4K models, with the first beta released to developers for testing yesterday. Below, we've rounded up several new features and enhancements coming in the software update. An overview of new tvOS 16 features for Apple TV: Cross-device connectivity: Apple…
Apple Announces Multi-Display CarPlay With Integrated Speedometer, Climate Controls, and More
Apple today at WWDC 2022 announced the "next generation" of CarPlay, which will support multiple displays within a vehicle, offer built-in climate controls for adjusting the temperature of the A/C or heat within the CarPlay interface, and more. The next-generation CarPlay experience will be able to provide content across multiple screens within a vehicle, and deeper integration with a…
.