Apple today is releasing a detailed new report highlighting the ways its ecosystem of products and services are impacting human health, from helping users keep track of their own personal health to supporting medical research and care.
"We believe passionately that technology can play a role in improving health outcomes and encouraging people to live a healthier day, and we are excited about the many ways users are benefiting from our health and fitness features, and by the third-party developers, Institutions, and organizations are using Apple technology to advance health and science," said Jeff Williams, Apple's chief operating officer. "Our vision for the future is to continue to create science-based technology that equips people with even more information and acts as an intelligent guardian for their health, so they're no longer passengers on their own health journey. Instead, we want people" to be firmly in the driver's seat with meaningful, actionable insights."
The 59-page document is split into two main sections, with the first one focused on empowering users with convenient access to their own health data while delivering health and fitness features to help maintain or improve their health. Apple outlines its commitment to privacy with secure storage of health data, the Apple Watch's role in health monitoring and as a health and fitness companion, and the HealthKit framework that opens up the ecosystem to third-party apps.
With the release of iOS 16 and watchOS 9 later this year, there will be even more health-related features available to users, including medication tracking, AFib History, and sleep stage tracking.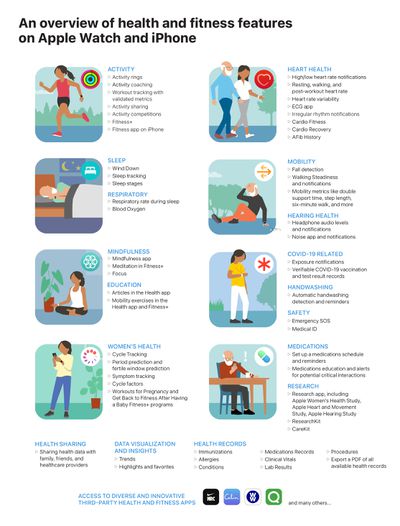 The second section of the report examines how Apple's health initiative integrates with the medical community, including features like ResearchKit and the Apple Research app. Other aspects include how Apple supports physician-patient relationships with technology and data and how it helps health organizations and insurance companies promote healthy lifestyles with Apple Watch.
The report concludes with an Extensions and Spotlights section that highlights a number of examples of developers and organizations that are leveraging Apple's health-related features and services to drive innovation.
Related Stories
Apple's Increasing Focus on Health Seen in Recent Hiring Trends, New Board Member
Apple has been talking for years about the role it wants to play in human health, led by the Apple Watch and its array of health-related features. With the Apple Watch maturing and Apple increasing its integration of health-focused hardware and software, several pieces of evidence suggest the company is positioning itself for an even bigger expansion in that direction. According to trends…
iOS 16 and watchOS 9 Add Support for Tracking Medications
With iOS 16 and watchOS 9, Apple is making it easier for users to track their medications. Medicine, vitamins, and supplements can all be added to the Health app in iOS 16 for tracking purposes, and custom reminders to take medication can be set up. You can add your prescription medications to the Health app on the iPhone through the new "Medications" category. You can search for your…
BlueJeans Telehealth Adds Support for Syncing Apple Health App Data
BlueJeans Telehealth has today announced that it will integrate with Apple's Health app to give more contextual information to healthcare providers. BlueJeans Telehealth is a HIPAA-ready virtual care system that provides a way for healthcare providers to meet with their patients via a video call, integrating with the workflows of clinical teams to replicate the experience of onsite…
You Can Walk the Oregon Trail With Apple Arcade App Update That Integrates With Health App
The Oregon Trail app for Apple Arcade was today updated with a new integrated Health experience that's designed to motivate you to walk the 2,000 mile path in real life through gamification. Oregon Trail fans can use an integrated "Walk the Trail" feature that takes advantage of data from the Health app to walk a virtual Oregon trail. There is also a new Apple Watch app called The Oregon…
Apple Announces watchOS 9 With Updated Watch Faces, Enhanced Fitness and Sleep Tracking Features, More
Apple today announced watchOS 9 for the Apple Watch, which will include more watch face options with more in-depth customization options, updates to notifications, new features in the Workout app, and more. Similar to iOS 16's new lock screen, the new watch faces in watchOS 9 let users personally style each face. There are four new faces: Lunar, Playtime, Metropolitan, and Astronomy; classic …
Oculus Quest 2 Movement Data Will Sync With Apple Health App Starting in April
Facebook parent company Meta today announced integrated an upcoming fitness update for the Oculus Quest 2, which will allow fitness data captured during VR workouts to be with the Apple Health app. Right now, when people exercise with interactive games like Liteboxer, Beat Saber, or Dance Central using the Oculus Quest 2, the data can only be viewed on the Oculus Mobile app on the headset…
Popular Stories
M2 'Extreme' Chip Headed to New Mac Pro for Blazing Fast Performance
Apple is working on a new Mac Pro with an M2 "Extreme" chip, according to a recent report from Bloomberg's Mark Gurman. The Mac Pro is one of the last Intel-based Mac models still on sale, and a version with Apple silicon has been now anticipated for over two years. At its "Peek Performance" event earlier this year, Apple even teased the launch of the Apple silicon Mac Pro, saying "that's…
MacBook Air Teardown Reveals M2 Chip and Single Storage Chip for 256GB Model
YouTube channel Max Tech recently shared a video teardown of the new MacBook Air, providing a look inside the redesigned notebook. Overall, the internal design of the new MacBook Air looks similar to the previous model, but the flatter shell allowed for Apple to fit larger battery cells inside the notebook. The new MacBook Air is equipped with a 52.6-watt‑hour battery, compared to a…
Top Stories: iOS 16 Public Beta, M2 MacBook Air Launch, and More
If you've been waiting since last month for a chance to try out iOS 16 and all of Apple's other upcoming operating system updates without needing a developer account, now's your chance, as Apple has launched public betas for all of the updates. This week also saw the launch of the redesigned M2 MacBook Air, the official end to the working relationship between Apple and Jony Ive, and a couple …
Hands-On With the M2 MacBook Air: All Your Questions Answered
Happy MacBook Air launch day! Today is the official debut date of the new M2 MacBook Air, which features the first major redesign to the MacBook Air in a decade. We picked up one of the new M2 MacBook Air machines and decided to do a hands-on video where we answer questions from MacRumors readers. Subscribe to the MacRumors YouTube channel for more videos. The M2 MacBook Air no longer has a…
Apple TV HD With Original Siri Remote is Now Vintage
Apple this week added the Apple TV HD with the original Siri Remote to its vintage products list. The device became vintage on June 30, according to an internal memo obtained by MacRumors, but the public-facing list was only updated recently. When the Apple TV HD was first released in 2015, it came with a first-generation Siri Remote without a white ring around the Menu button — only units …
.