AppleInsider is supported by its audience and may earn commission as an Amazon Associate and affiliate partner on qualifying purchases. These affiliate partnerships do not influence our editorial content.

Of course, you are never going to cart around a 27-inch iMac Pro to use on your lap during a daily commute to the office. But you're also never going to buy a MacBook Pro for one weekend away because with a little effort, you won't need to — any Mac can be made portable, or at least transportable.
When you need to, you can use any Mac as a portable — even if most of the time that really means transportable. Only the MacBook Pro and MacBook Air can be run on battery power, but absolutely every Mac can be taken around and used wherever you end up.
You just need to find the right case — and remember the cables.
Transporting MacBook Pro and MacBook Air
To be comprehensive, there are specific cases for Apple's portables just as there are for all the other Macs. In this case, Apple itself sells a lot of them. They range from sleeves to hard shell cases, and Apple also sells certain bags.
Apple is far from the only company that does this, though, and as well as often being cheaper, third-party firms tend to offer a far wider range of options.
Compared to desktop Macs, there are countless case options for MacBook Pro and MacBook Air
Or specifically for hard cases, there are ones like the Evo Hardshell.
These are all for the Macs that are actually sold as being portable, though. And Apple itself doesn't sell cases for any other ones. You still have to be careful picking the right case for you Mac, but you also need to look at just exactly why you need to transport it.
Making the Mac mini portable
The Mac mini is easily the most portable of the non-portable Macs, except for one issue. The Mac mini itself is that tiny box, but it needs a separate keyboard, trackpad or mouse — and display.
But if nothing can save you the need to carry a keyboard and mouse, unless you keep a spare set at your destination, there is one thing you can sometimes do about the display. Hotels still have TV sets for some reason, and a great many of them have HDMI slots that you can access.
So you can — and AppleInsider has — plugged a Mac mini into a hotel TV set and got to work.
Just note that it's unlikely that this is going to be the most ergonomic solution.
Remember, too, that the packaging a Mac mini comes in is already pretty sturdy. It's not as if Apple basshes it around en route, but still it has to come a long way and get to you in good condition.
So if you've kept the box and all you need to do is take the Mac mini across the street to your neighbor's, that could be all you need.
When it isn't enough, though, you've got options. For around $25, there's the Hermitshell Travel Case for Mac mini. Similarly, the RLSOCO Hard Case for Mac mini comes with room for a mouse and cables, for around $40.
Making the Mac Studio portable
Where you could slip your Mac mini into a briefcase or carry-on luggage, if you felt that was enough protection, you can't with the Mac Studio. Despite having the same footprint as a Mac mini, it's more than twice the height — and more than twice the weight.
Accordingly you need a strong case to hold it. And the Mac Studio is still new enough that there aren't very many options.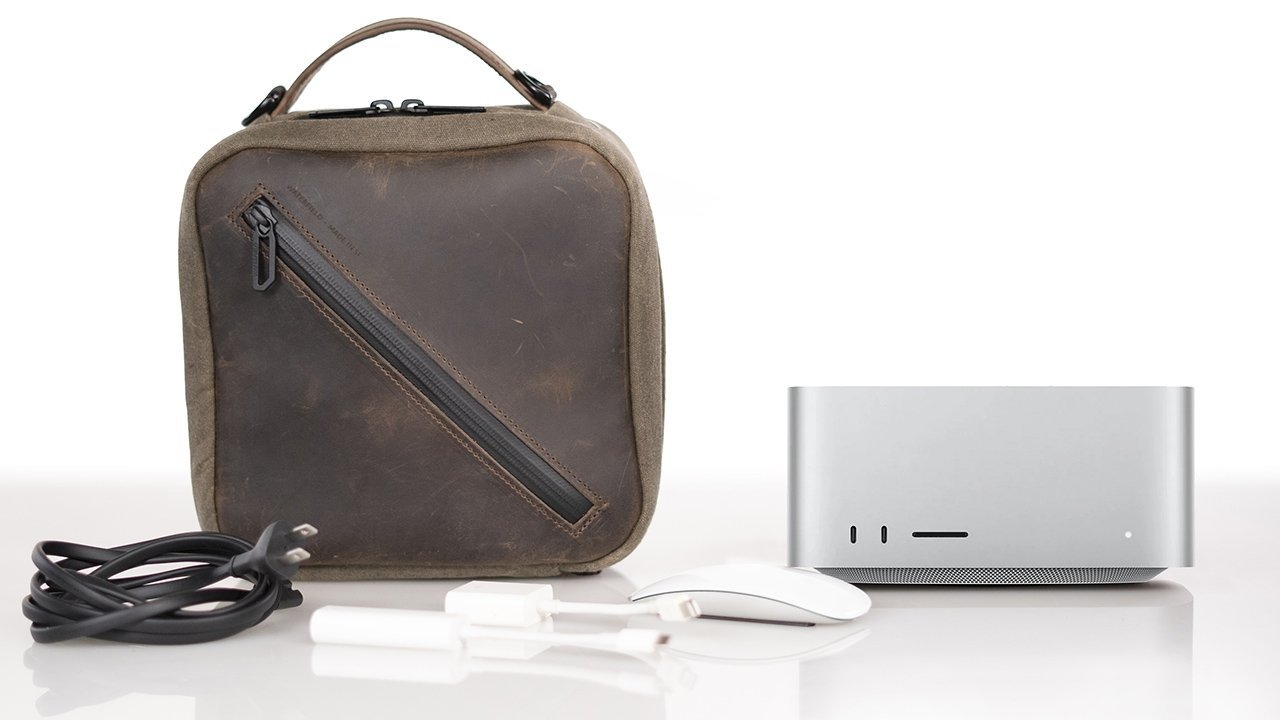 Waterfield has a couple of Mac Studio options including this Shield Case
There is, though, the Waterfield Shield Case for $129. For that, you get a case that holds the Mac Studio plus cables, and has a vaguely Indiana Jones look about it.
The base model there has only a carrying handle, but you can add a shoulder strap from $20.
Waterfield also has what it calls the Mac Studio Travel Bag, from $179. It's a similar construction to the Shield Case, but has more internal room for accessories.
Making the 24-inch iMac portable
You can't be casual about schlepping a Mac mini or a Mac Studio around, but the 24-inch iMac brings new concerns. Its form factor means it's larger, wider, and also has that leg sticking out of the display — and then there's that display.
But if the display is a concern, it is also a benefit. Make the 24-inch iMac portable and you don't have to worry about sourcing some alternative screen because you've got one right there in the machine.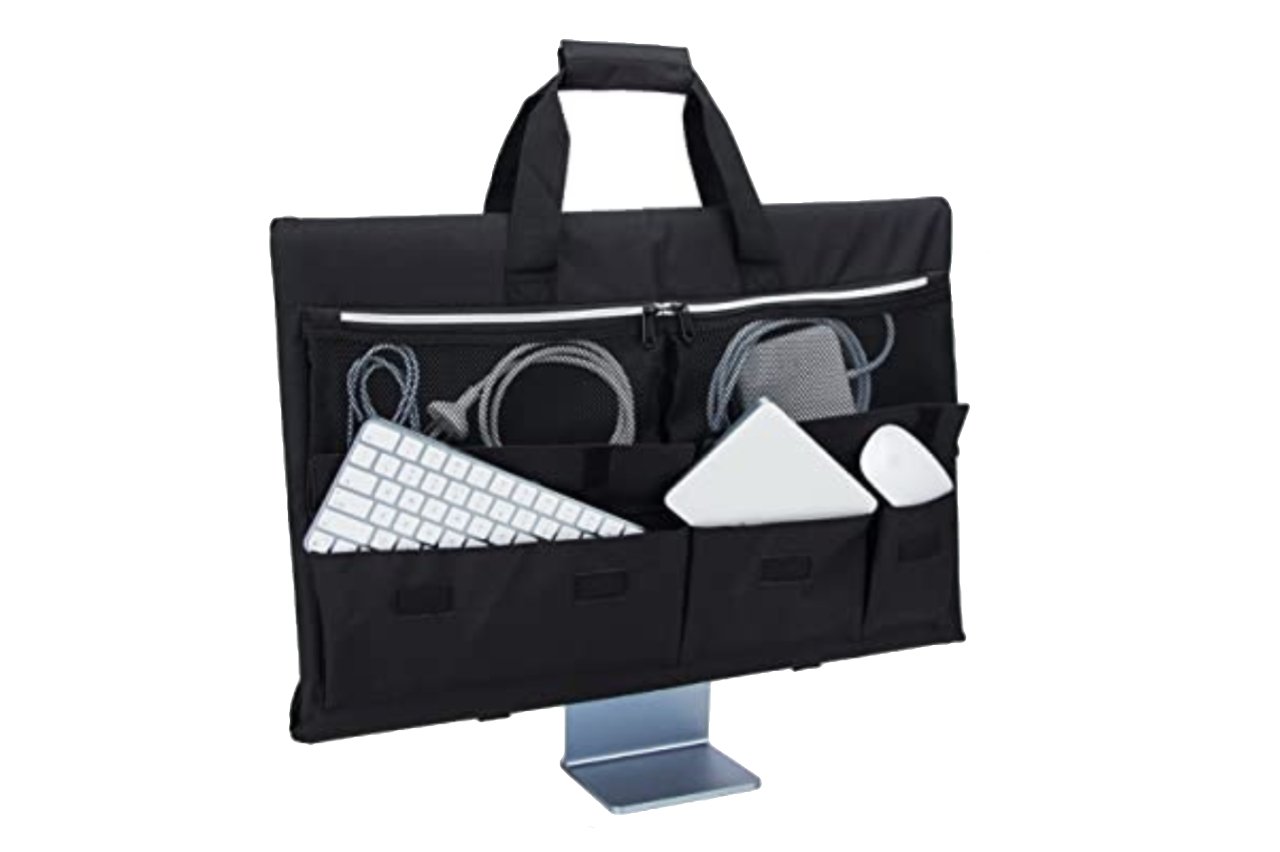 Not a lot of protection for the iMac, but certainly easier to carry.
For $40, Kislane sells a basic protective sleeve for the 24-inch iMac. On the plus side, it adds several pockets for carrying everything from cables to the keyboard.
On the negative side, though, it doesn't even attempt to include the iMac's foot. While it is aimed at travellers, what it does overall is provide a covering that protects the iMac from dust, and offers a carrying handle.
Whereas for around $300, Case Club sells a hard case for the 24-inch iMac. Externally, it resembles the kind of cases you see photographers carrying, and internally the screen is firmly held.
Making the 27-inch iMac and iMac Pro portable
The 27-inch iMac and the iMac Pro both present the same problems for portability as the 24-inch iMac. They have a foot each, they have large and thin screens.
But those screens are even bigger, and the machines are even heavier. This makes protecting them that much harder, but also adds to the difficulty of just carrying them around.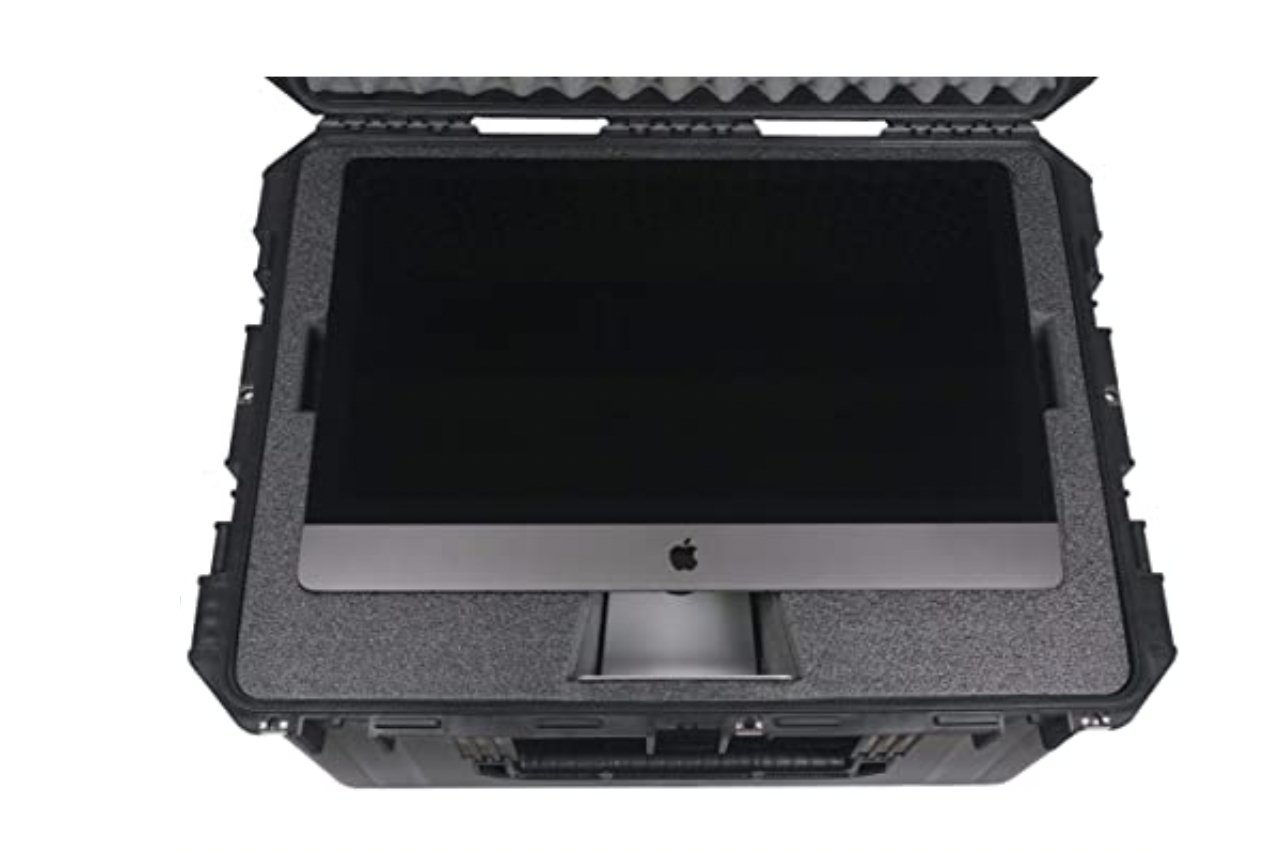 Hard case for the iMac Pro and 27-inch iMac
Specialty Cases makes a tote bag for either machine, which costs around $300. It's padded nylon instead of a hard case, so there's a limit to how much protection it can give.
However, it is a tote bag — and comes with wheels. So it has an extensible handle, and it can be pulled along like a suitcase.
Case Club sells a 27-inch iMac option that also has wheels, but is a hard case for around $400. The company claims that the case is airline-approved, too.
Making the Mac Pro portable
This is definitely a Mac you're likely to want to be portable, since regardless of your budget, buying a second Mac Pro for your destination isn't a casual decision. Fortunately, this is the only Mac that comes with wheels — for a price.
Even with its optional $699 wheels, though, it's not as if you can kick the Mac Pro down the line to the airport terminal. It's also not as if you can ride it there, but you could add a saddle bag to it.
From $300, NSP Cases sells a hard case for the current Mac Pro, although it repeatedly lists it as being for the Mac Pro G4 and G5.
Or Specialty Cases sells a crate-like hard case, with wheels, for $650.
About that display
There are options regarding displays even for the Mac mini, Mac Studio, and Mac Pro, which don't come with one.
You could, for example, treat these the same way you would a headless Mac server.
It's possible to remote control any Mac from even your iPhone with software such as Screens 4. However it takes setting up, and if anything goes wrong then you can't use the software to see the screen to fix the problem.
There is, though, Luna Display. Long before there was Sidecar, there was Luna Display which uses a hardware dongle. Buy the dongle for $119.99, and download the software.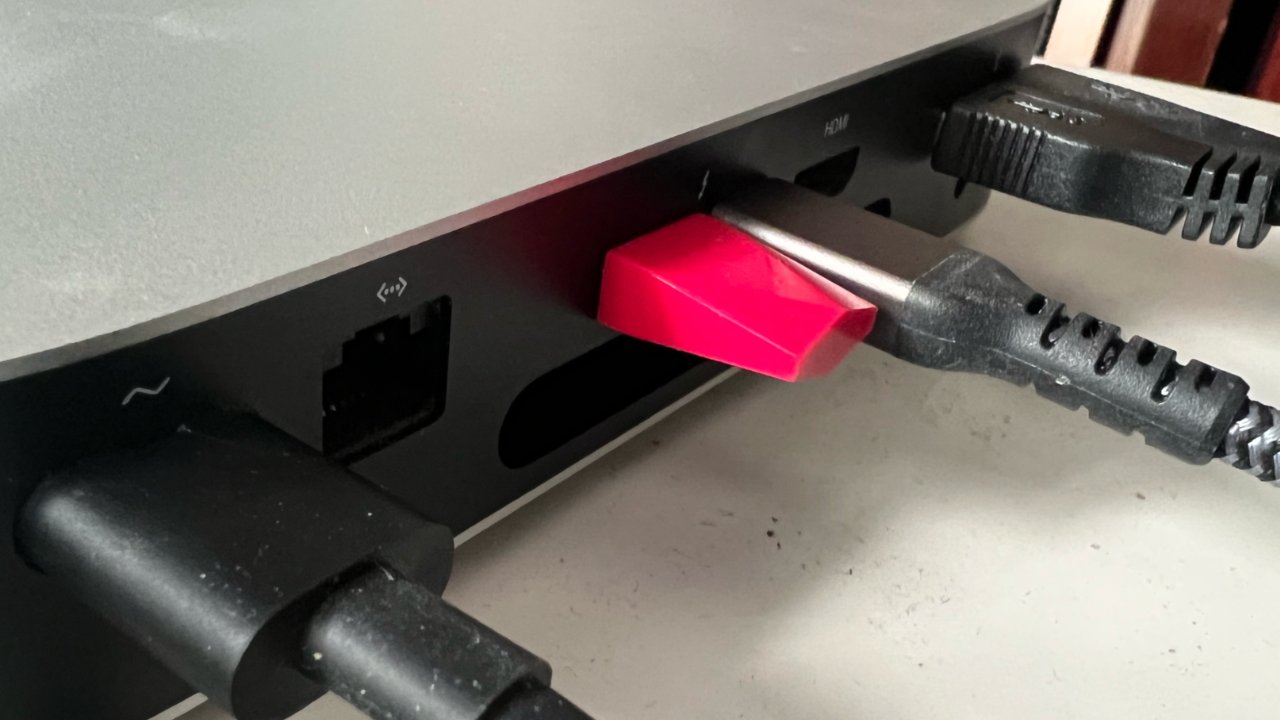 Luna Display's dongle plugged into a Mac mini
As long as you configure it for the first time connected to a display that isn't the iPad, you're good to go. When you've plugged the dongle in, run the apps and set up both Mac and iPad once, you can always use the iPad as your monitor. And it's a lot easier carrying a tiny dongle and an iPad than it is proper monitor.
Although there are actual monitors that are built to be portable. They're flat screens, not much bigger than a 12.9-inch iPad Pro, but are rather screens. Typically they're made for Windows, and may even act as touchscreens for PCs, but can work with Macs.
It's common for these monitors to be noticeably dimmer than a regular monitor or an iPad, though.
Nonetheless, if Luna Display and an iPad will be better quality, any of them will do in a pinch. Although if you end up working away from home or your office a great deal, it's going to be worth your looking at a MacBook Pro or MacBook Air the next time you upgrade.
Regardless of what Mac you have now or get later, though, there are ways to make them portable — and companies that will sell you the cases.
.